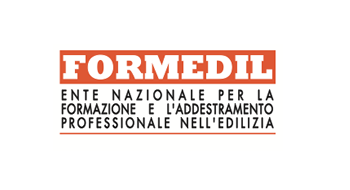 Ente per la Formazione e l'addestramento professionale nell'edilizia -Formedil-
Formedil (Institute for VET in Construction Sector) was created in 1980, promoted by the key associations in the construction sector, signatories of the Collective Agreement (ANCE, Feneal Uil, Filca CISL, CGIL FILLEA), all of them with a parity participation in the management of Formedil.
In Italy, VET for the construction sector is established by a joint national training system regulated by national collective agreements for industry, cooperatives, SMEs and craftworks.
The main aim of Formedil is the national promotion, application and coordination of training, qualification and updating of the sector workers. These activities are carried out by means of the construction of local schools built according to the need of the local labour market.
Formedil promotes agreements and memoranda of understanding with the public bodies in charge of the issues related to training and education and participates in national and international projects that support students and trainers from training centres focused on construction.
Address: Via Guattani, 24. 00161 Roma (Italy).
Web: www.formedil.it
Contact e-mail: formedil@formedil.it